Virtue signalling hypocrites are out in force again over a cartoon. Again. The insufferable Soupie is twittering away, attacking the son now after giving his great father a stab in the heart:
Yes Soupie, The cartoon is pointing out the racism inherent in identity politics, and you know it.
But typical for the left, NO sense of humour or perspective….
Just stupid. The cartoon is exposing the racism of the left. 
Here's Biden:
"poor kids are just as bright and just as talented as white kids."
'If you have a problem figuring out whether you're for me or Trump, then you ain't black'
"You cannot go to a 7-11 or a Dunkin' Donuts unless you have a slight Indian accent. I'm not joking,"
Little Michael Rowland feels compelled to express his wokeness:
Twaddle. Many people are more brown than Kamala Devi Harris, and have been appalled by the entire racist as well as sexist process of selecting a VP running mate for Biden. This cartoon is an apt comment on the criteria used in picking Harris. It's a funny cartoon.
This is the beauty of political cartoons. In just a few pen strokes, a cartoonist can accurately sum up a complex issue. In this case, it accurately sums up the hypocrisy of @TheDemocrats and the racism held by @JoeBiden
Your hypocrisy exposed, leftoids!
---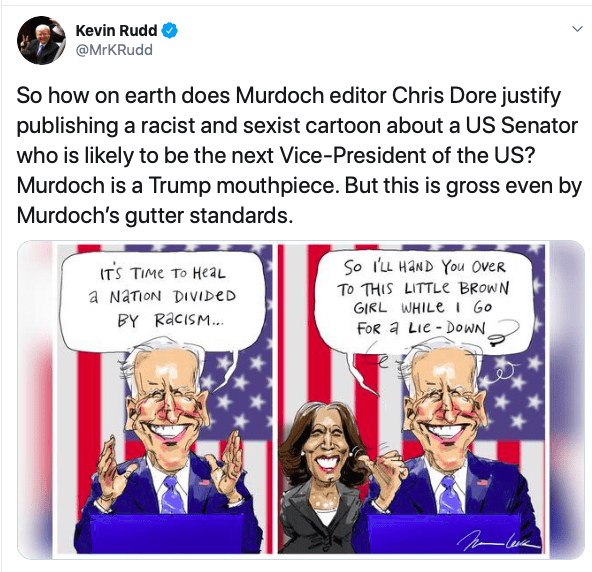 Seriously, you couldn't make it up. The worst of all tosspots downunder, the bloviating KRudd, is also out there with the shriekers, expressing fake rage.