Greenhouse gases cannot physically cause observed global warming
The World Is Warming
All four major analyses of Earth's average surface temperatures (NASA, NOAA, Hadcrut4, and Berkeley Earth) document global warming since 1970 of approximately 0.9 degrees Celsius (1.6 degrees Fahrenheit). The hottest year on record is 2016, with 2017, 2018, and most likely 2019 all being cooler.  Most climate scientists are convinced, based on greenhouse-warming theory, that this warming is caused primarily by increased burning of fossil fuels, causing increasing emissions of greenhouse gases, that are absorbing increasing amounts of infrared radiation emitted by Earth. Annual, average concentrations of carbon dioxide measured on Mauna Loa, Hawaii, have increased from 326 ppm in 1970 to 409 ppm in 2018 (25%). Most climate scientists are convinced that we must decrease burning of fossil fuels substantially and promptly in order to prevent dangerous overheating of Earth during the next few decades.
Why the Physics of Greenhouse-Warming Theory Appears to Be Mistaken
Greenhouse-warming theory, according to the Intergovernmental Panel on Climate Change, posits that greenhouse gases, primarily water vapor (H2O), carbon dioxide (CO2), nitrous oxide (N2O), methane (CH4) and ozone (O3)
"absorb terrestrial radiation emitted by Earth's surface and elsewhere in the atmosphere. These substances emit infrared radiation in all directions, but, everything else being equal, the net amount emitted to space is normally less than would have been emitted in the absence of these absorbers. … An increase in the concentration of greenhouse gases increases the magnitude of this effect."
Greenhouse-warming theory is thus based on the fundamental assumption described by Joseph Fourier in 1822 (Page 3) that the average temperature at Earth's surface will increase if the net amount of terrestrial radiation reaching space becomes less than the net amount of solar radiation reaching Earth, often explained as the Earth-atmosphere energy balance, Earth's energy budget, Earth's radiation budget, tracking Earth's energy, or Earth's energy balance).
Since 1798, physicists have thought of heat as thermal energy in transfer—a flux through some surface measured in watts per square meter, where watts are the number of joules of energy passing through the surface each second. Climate scientists calculate radiative forcings, which are the net changes in flux (downward minus upward) caused by changes in concentrations in the atmosphere of each type of greenhouse gas, dust, black carbon soot, smoke from biomass burning, aerosols, volcanic aerosols, contrails, and such, or caused by any changes in radiation from Sun. They add these radiative forcings together to estimate changes in temperature.
Thus greenhouse-warming theory is based on the assumption that (1) radiative energy can be quantified by a single number of watts per square meter, (2) the assumption that these radiative forcings can be added together, and (3) the assumption that Earth's surface temperature is proportional to the sum of all of these radiative forcings. A fundamentally new understanding of the physics of thermal energy and the physics of heat, described below, shows that all three assumptions are mistaken. There are other serious problems: (4) greenhouse gases absorb only a small part of the  radiation emitted by Earth, (5) they can only reradiate what they absorb, (6) they do not reradiate in every direction as assumed, (7) they make up only a tiny part of the gases in the atmosphere, and (8) they have been shown by experiment not to cause significant warming. (9) The thermal effects of radiation are not about amount of radiation absorbed, as currently assumed, they are about the temperature of the emitting body and the difference in temperature between the emitting and the absorbing bodies as described below.
The thermal effects of radiation are not about amount of radiation absorbed, as currently assumed, they are about the temperature of the emitting body and the difference in temperature between the emitting and the absorbing bodies.
Heat is, in concept, what a body of matter must absorb to get warmer and emit to get cooler. Defining heat as thermal energy in transfer completely sidesteps the issue of what thermal energy is physically in matter and in radiation. Physics is supposed to be about what is physically happening in Nature. What physically is thermal energy? What physically is heat? Once we can answer these questions, then we can observe how, physically, thermal energy and heat flow through matter, through air, and through space?
What Physically Is Thermal Radiation?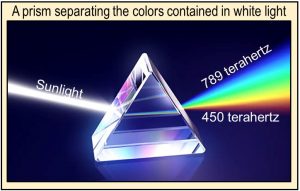 In 1672, Isaac Newton showed, using a prism and lenses, that sunlight is made up of a broad spectrum of colors and that these colors physically coexist within sunlight—they are displayed by but not created by the prism. Newton also showed that by using a second prism, he could combine the colors back into white light.
We observe that these colors do not interact with each other in any way in air and space—only when in the immediate presence of matter. We refer to these colors as the visible spectrum extending from red through violet, but they clearly form a continuous spectrum or continuum meaning a continuous sequence of shades of color in which adjacent colors are not perceptibly different from each other, although the extremes are quite distinct. The human eye can detect about ten million distinct colors.
Continue reading here